SylkServer
Note: SylkServer allows creation and delivery of rich multimedia applications accessed by SIP User Agents. The server supports SIP signaling over TLS, TCP and UDP transports, RTP and MSRP media planes, has built in capabilities for creating ad-hoc SIP multimedia conferences with HD Audio, IM and File Transfer and can be easily extended with other applications by using Python language.
OverSIP
NOte: OverSIP is a SIP proxy & server built on top of Ruby EventMachine-LE async library which follows the Reactor Design Pattern.
Gemeinschaft PBX
https://github.com/amooma/GemeinschaftPBX
Download: https://github.com/amooma/GemeinschaftPBX/downloads
Yate
Multiprotocol telephony engine
http://yate.null.ro/pmwiki/index.php
TiVi
Win, Linux OS free SIP server and phone
Elastix
UC platform based on Asterisk and FreePBX.
Brekeke
Commercial, Trial available
OfficeSIP
Freeware SIP VoIP Server and Open Source SIP Softphone for Windows
http://www.officesip.com/
TekSIP
TekSIP is a SIP Registrar and SIP Proxy for Windows. TekSIP tested on Microsoft Windows XP, Vista, Windows 7 and Windows 2003-2008 server.
SipWitch
http://www.gnu.org/software/sipwitch/
peer to peer SIP server
Sip router
Zlúčený projekt Kamailio/OpenSER, SER a OpenIMS projektov
freeswitch
sipXecs IP PBX
UC platform
ZOznam vlastností: http://sipx-wiki.calivia.com/index.php/The_sipXecs_IP_PBX_Feature_List#System_Application_Services
OpenSIPS
Poznámka: Následovník OpenSER
Kamailio
Poznámka: Následovník OpenSER
OpenSER
POZNÁMKA: Projekt OpenSER sa štiepi v auguste 2008 na:
1) Pokračovateľa
2) Fork:
Asterisk:
---
Asterisk WIN32
Asterisk GUI:
======
White papers, tutorials and articles:
======
* Asterisk tutorials: http://asterisktutorials.com/
* AsteriskGuru: http://www.asteriskguru.com
* Trixbox without tears: http://dumbme.voipeye.com.au/trixbox/trixbox_without_tears.htm
TrixBox
MobiCents
---
Descriptions: Mobicents is an Open Source VoIP Platform. It is the First and Only Open Source Certified implementation of JAIN SLEE 1.0 (JSLEE, JSR 22, JSR 240). The Open Source SLEE and SIP Server.
download at sourceforge.net
WeSIP
---
WeSIP is a SIP and HTTP Converged Application Server built on top of OpenSER!!!
WeSIP adds a J2EE layer to OpenSER so you can benefit from the existing OpenSER modules and features, which already implement nice functionality like registrar,nat traversal, diameter authentication or radius accounting at blazing speeds,while at the same time enjoying the ability to develop and deploy new converged SIP and HTTP applications in an J2EE environment.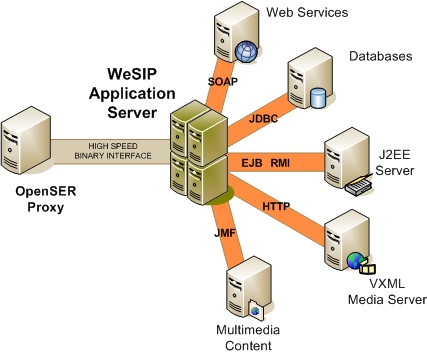 SailFin
---
Project SailFin is based on robust and scalable SIP servlets technology on top of a deployment-quality, Java EE-based GlassFish. We are working towards achieving JSR 289 compatibility, adding high- availability and clustering features, and integrating with existing GlassFish services.
JSR 289 updates the SIP Servlets API and defines a standard application programming model to mix SIP Servlets and Java EE components. Java EE services, such as web services, persistence, security, and transactions, enable faster development of smarter communications-enabled applications.


3CX Phone System
---
Description: free PBX /VoIP SIP system for windows
SIP UA also there
SIP Express router (SER)
---
POZNÁMKA: Podľa všetkého prechodom vývojárov na komerčnú bázu projektu iptel.com vývoj zastavený.